Entry Level (3U) aVS
This Entry-Level aVS provides two or four bi-directional SDI ports with genlock in a 3U chassis with single or redundant power supplies and offers at least 2 TB (usable) of storage protected by a software RAID array.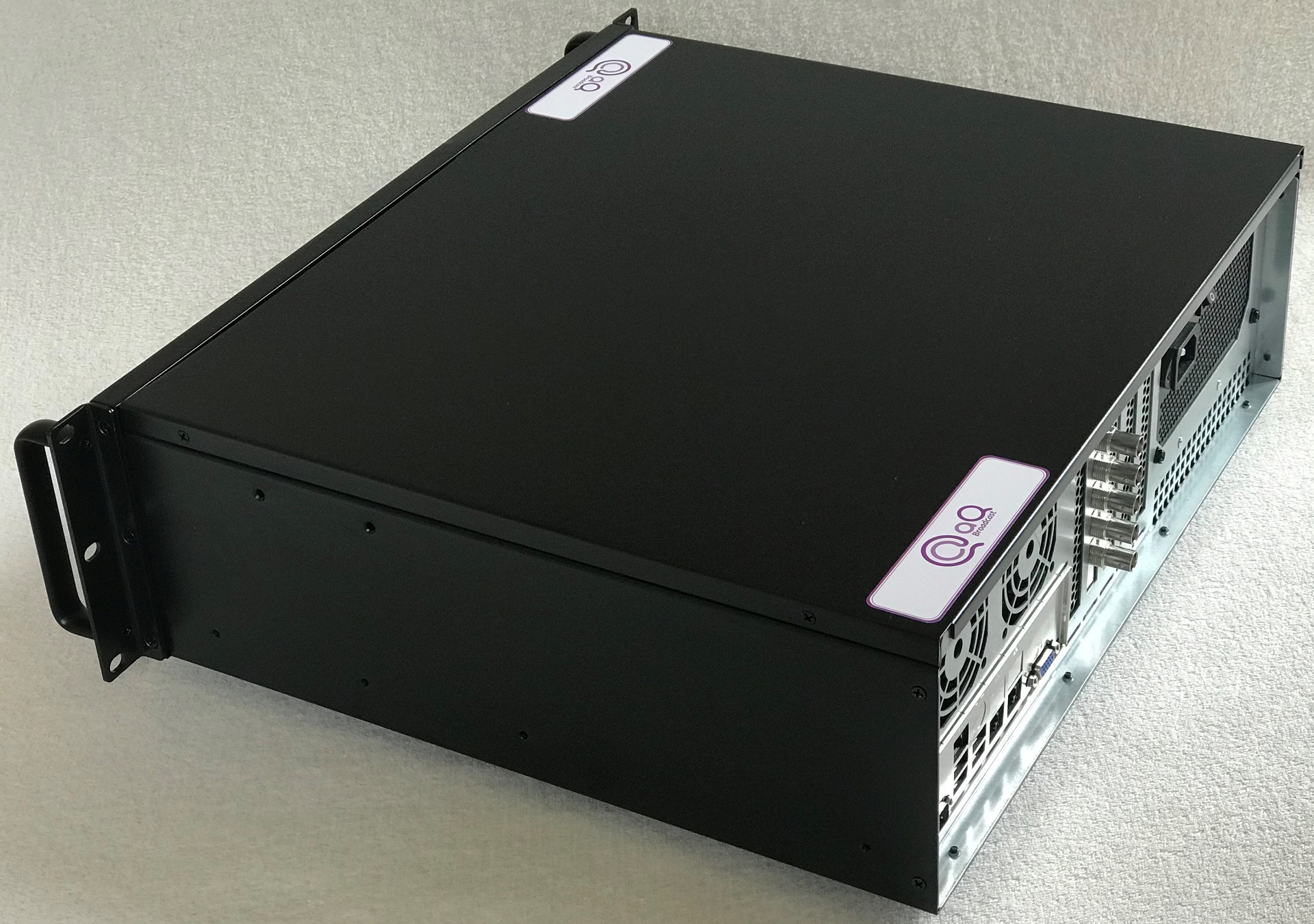 Product Code: AQVS32041DE3 (two-port / 2 TB usable version) - other configurations are available
Item: aQ Video Server, gen3, Hybrid, 3U, two-port SD/HD, SDI, entry-level, 2 TB (software RAID), single PSU (other configurations available)
Description:
aVS, third generation system
Two-port SD/HD video server with single PSU in a 3U chassis.
Each port individually configurable as recorder or player, with SDI input & SDI output (with embedded audio). Ports provided as a pair, with shared genlock input.
Storage: four removable (but not hot-swappable) HDD providing approximately 2 TB usable storage in a software RAID configuration.
On-board VGA, 1GigE NIC
Firmware: aQ v4/5 firmware installed
3U, 482 (wide) x 430 (deep) x 130 (high) mm, approximate weight 12 Kg (fully installed, excluding rack rails)
Rack rails included.
Not included: power cord, keyboard, mouse, monitor, network cable.
Hardware details:
3U Chassis
Depth: approx. 43 cm
Weight: approx 12 Kg
Single PSU
Front indicators: Power, Hard drive activity
Front buttons: power on/off, system reset
Rear connections: 2 x USB 2.0, 2 x USB 3.0, 2 x 1GigE NIC, 1 x VGA, 1 x RS232 serial (exact configuration may vary, especially NICs)
AV I/O (bottom to top):

1 x shared genlock input, Port 1 Input, Port 1 Output, Port 2 Input, Port 2 Output

Four 1 TB HDD, rated for NAS operation, in removable (but not hot-swappable) caddies
Hard drive configuration: software RAID
Power supply: 500W High-Efficiency Power Supply (certification 80 Plus Platinum)
AC input:200-240V, 47-63Hz, 5A (alternate versions available for different markets)
Internal cooling: 4 x 6/8cm fans
What's in the box:
pair of rack rails
aQ v4/5 firmware pre-installed
What's not included:
power cord
keyboard, mouse, monitor
network / AV cables
All specifications and images subject to change without notice. A wide range of options and configurations are available, so this information can only be provided as representative of one particular model.