Entry Level aVS
The entry-level aVS provides two bi-directional SDI ports with genlock in a 1U chassis and offers 2 TB of internal mirrored storage.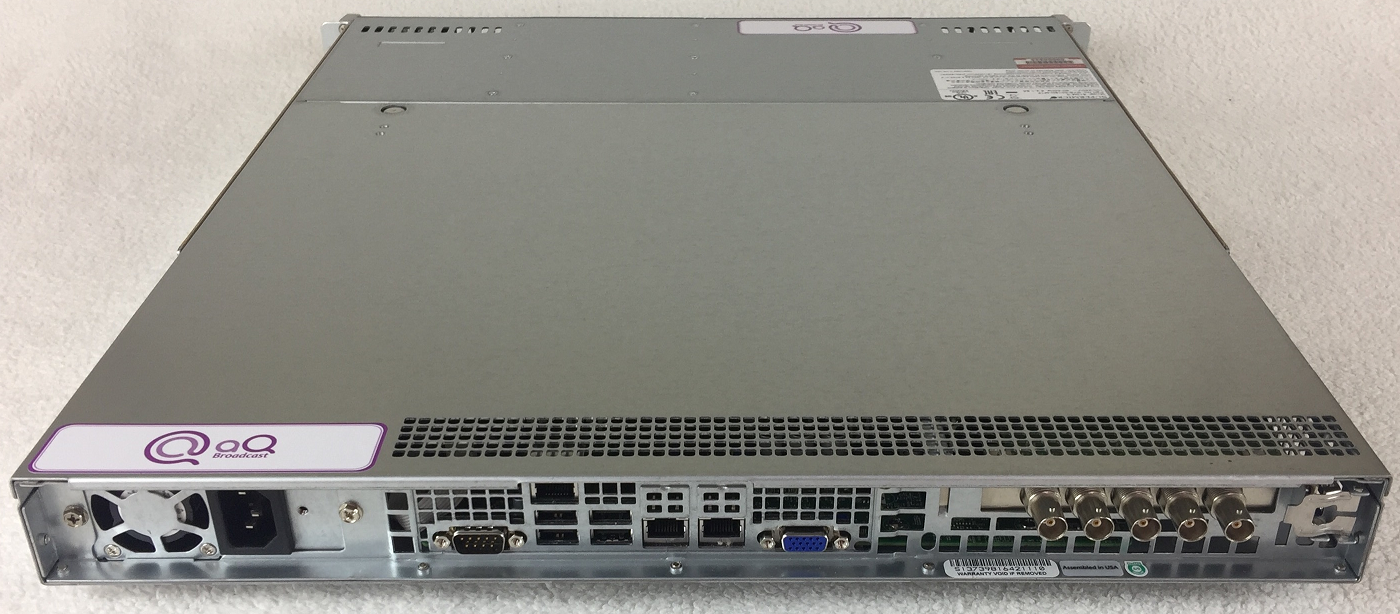 Product Code: AQVS32041DE0
Item: aQ Video Server, gen3, Hybrid, 1U, two-port SD/HD, SDI, entry-level, 2 TB (software mirror)
Description:
aVS, third generation system
Two-port SD/HD video server with single PSU in a 1U chassis.
Each port individually configurable as recorder or player, with SDI connections (including embedded audio). Both ports share a single sync/genlock input, supporting black/burst in SD, 720p50, 720p59.94, 1080i50 and 1080i59.94 formats or Tri-Sync in any HD format.
Storage: internal HDDs providing approximately 2 TB usable storage in a software mirrored configuration.
On-board VGA, 1GigE NIC
Firmware: aQ v4 firmware installed.
1U, 437 x 503 x 43 mm (17.2" x 19.8" x 1.7"), rack rails included.
Not included: power cord, keyboard, mouse, monitor, network cable.
Hardware details:
1U Chassis
Depth: approx. 51 cm
Weight: approx 10 Kg
Single PSU
Front indicators: Power, Hard drive activity, 2 x Network activity, System overheat
Front connections: 2 x USB, 1 x RS232 serial
Rear connections: 4 x USB, 2 x 1GigE NIC, 1 x VGA, 1 x RS232 serial
AV I/O: 1 x shared genlock input, Port 1 Input, Port 1 Output, Port 2 Input, Port 2 Output
Four 1 TB HDD, rated for continuous operation, in removable (but not hot-swappable) caddies
Hard drive configuration: two drives for OS (mirrored), two drives for media volume (mirrored)
Power supply: 440W/480W High-Efficiency Power Supply (certification 80 Plus Platinum)
AC input:100-140V, 50-60Hz, 5.5-4A /180-240V, 50-60Hz, 3.5-2.5A
Power Supply Safety / EMC: USA - UL listed, FCC | Canada - CUL listed |Europe/CE Mark | EN 60950/IEC 60950-Compliant
Internal cooling: 4 x 4cm high-performance fans
Temperature range: 5°C ~ 35°C (41°F ~ 95°F) [operating] / -40°C ~ 60°C (-40°F ~ 140°F) [storage]
Humidity range: 8% ~ 90% (non-condensing) [operating] / 5% - 95% (non-condensing) [storage]
What's in the box:
aVS (1U chassis)
Removable front bezel
pair of rack rails
aQ v4 firmware pre-installed
Packaging 23.4" (W) x 8.5" (H) x 29.7" (L)
What's not included:
power cord
keyboard, mouse, monitor
network cable(s)